Halo: Spartan Assault is a top-down action shooter set in the famous Halo universe, exploring the first missions of the Spartan Ops program. Vanguard Games developed the game in conjunction with 343 Industries for Xbox One, Xbox LIVE Arcade, Windows Phone 8, Windows 8, PC (Steam) and iOS.

Playing through the eyes of Commander Sarah Palmer and Spartan Davis, players dive deeper into the backstory of the Human-Covenant wars. Halo: Spartan Assault takes place between Halo 3 and Halo 4, bringing the epic scale of Halo to console and mobile devices. On all platforms, Halo: Spartan Assault provides an accessible, pick-up-and-play experience for fans and newcomers alike. Players can do pretty much everything they can do in any other Halo game, from using many signature weapons, grenades and Armor Abilities to controlling friendly and enemy vehicles and turrets.
Responsibilities
I am one of around three designers that worked on this project, in an overall team of about twenty people. Some of the tasks I've worked on are:
Overall game design and its documentation
Coordinating, supervising and executing enemy placement (creating core gameplay enemy opposition)
Designing and building many interactive game objects (player abilities, enemy AI, spawners)
Controls and HUD
Level design
Designing and coordinating the implementation of Achievements
Designing and coordinating the implementation of Xbox One specific system features
Design-related communication with and documentation for 343
Media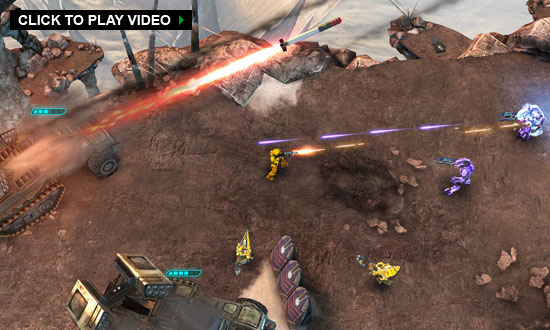 Links and files
Features
Pick-up-and-play fusion of touch and consolelike controls (on touch-enabled devices)
30 action-packed campaign missions
Multiple online co-op missions that put you up against The Flood
Large amounts of Achievements and Medals to earn
Leaderboards and Weekly Challenges
Upgrades for boosters, unique weapons and armor abilities
Critical acclaim
Halo: Spartan Assault won a 2013 Dutch Game Award in the category Best Technical Achievement. It was also nominated in the category Best Mobile Game and for the Control Industry Award. These awards were handed out during the Control Industry Dinner on November 19, 2013.
Halo: Spartan Assault also got some great reviews. Here are some highlights:
"If you've played Halo before and are a die-hard fan: don't hesitate, just grab your copy. If you're not that much of a fan but still like the Halo universe, again: grab it. And shouldn't you be interested in Halo at all, but like a good twin stick shooter: grab it too."

WPXBOX: 9.1
"Bright and a little bit brilliant. If you own a device that can run Halo: Spartan Assault, you should definitely give it a try."

Pocket Gamer: 9.0 – Gold Award
"The second reason is that all of those writers, reviewers, and gamers, must not be disappointed. If it says Halo, they should get Halo. Thankfully, they get Halo. But with a mobile twist."
"Halo: Spartan Assault feels like a Halo game, which is no small feat considering it plays very differently from the original first-person shooter that set the genre standard on consoles. Spartan Assault is a true Halo game, even if the series' signature scope and size are scaled down."

Game Informer: 8.25
"Far from a cynical cash-in, Vanguard Games have done a great job of producing an authentic Halo experience, despite major changes in approach to accommodate its platforms' strengths."

BritXbox: 8.0
Many more can be found on the Metacritic page for the PC, Xbox One and Xbox LIVE Arcade versions of Halo: Spartan Assault.