Halo: Spartan Strike is a top-down action shooter set in the famous Halo universe, experienced through a classified ONI simulation taking place during the events of Halo 2. Vanguard Games developed the game in conjunction with 343 Industries for Windows Phone 8, Windows 8, PC (Steam) and iOS.

Playing as a Spartan IV, players fight alongside UNSC troops and battle against Covenant and Promethean forces in order to save Earth. Halo: Spartan Strike includes a compelling new story and improved touch controls, delivering an epic adventure with thrilling battles and unparalleled visuals for mobile devices.
Responsibilities
I am one of around five designers that worked on this project, in an overall team of about twenty people. Before leaving Vanguard Games, I worked on this project from the start for around five months. Some of the tasks I've worked on are:
Overall game design and its documentation, with a focus on weapons and abilities
Designing and building mission building blocks (triggers, spawning systems, other interactive objects)
Mission and level design
Narrative research and design
Designing Achievements and in-game challenges
Design-related communication with and documentation for 343
Media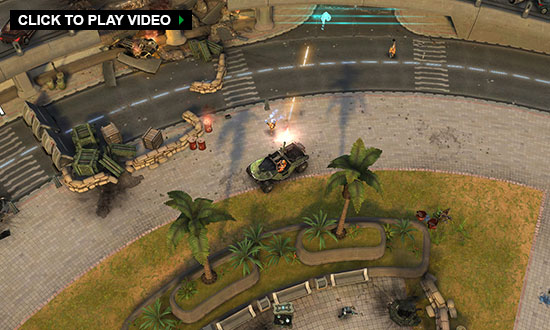 Links and files
Features
30 missions spread out across New Mombasa and Gamma Halo, featuring new Promethean enemies
All new weapons: Suppressor, Scatter Shot, Binary Rifle and Incineration Cannon
All new Armor Abilities: Proximity Mine, Bubble Shield, Teleport, Shock Chain and Airstrike
Keyboard/mouse, controller and touch control support
Leaderboards and weekly challenges
Earn Achievements to unlock exclusive Halo: The Master Chief Collection content
Critical acclaim
Halo: Spartan Strike got some great reviews. Here are some highlights:
"One of the best twin-stick shooters you'll come across on mobile, Halo: Spartan Strike – like its predecessor – is as accessible as it is entertaining, celebrating the grandiose nature of the Halo franchise without getting overly wrapped up in it. For action fans, this is about as good as it gets."

TrustedReviews: 10
"A gorgeous, surprisingly deep shooter that sucks you back into Halo's universe. Fun and flashy in all the right ways."

Pocket Gamer: 9.0 – Gold Award
"As a sequel to Halo: Spartan Assault, it would make sense that Strike seeks to improve upon its predecessor and it succeeds in that regard. While the changes to the formula feel more evolutionary than revolutionary, those improvements are on a game that was already great to begin with making Strike an even better dual stick shooter."

Touch Arcade: 9.0
"Spartan Strike does a great job of building on the foundation of Spartan Assault."

148 Apps: 8.0
"If you're a Halo fan looking for a more digestible take on the series, a gamer with a Microsoft or Apple smartphone or tablet looking to play something meatier and more action-packed, or even a casual observer trying to figure out what all the Halo fuss is about, Halo: Spartan Strike is a great entry point."

PC Mag: 8.0
Many more can be found on the Metacritic page for the PC and iOS versions of Halo: Spartan Strike.