Red Bull BC One is an action puzzle game, supported by music and based on the popular yearly breakdance event of the same name. On the DS, the player uses the bottom screen to connect dots of multiple colors in different ways to perform a variety of breakdance moves, visible on the upper screen. The more moves a player pulls off successfully, in combination with intertwined mini games, the better the show and the final score will be.

Soepel developed a tech demo for Red Bull BC One as requested by publisher Playlogic. This demo had to prove the general gameplay and show how it would work on the Nintendo DS. We created a web-based prototype, which included a modest amount of breakdance moves, a nice music track and a proposal for the visual style. Interaction and visuals on the bottom screen were completely handled by Flash, while the 3D presentation on the upper screen was developed in Virtools. The communication between those technologies was realized within the browser using PHP. Based on this tech demo, the game was later developed for the Nintendo DS by Smackdown Productions and published by Playlogic.
Responsibilities
In this project, I worked together with a Flash programmer, a Virtools programmer and an artist. What I did was:
Turn Playlogic's concept guidelines into a prototype game design document (overall game design)
Communication between Flash and Virtools in web browser for Nintendo DS simulation
Media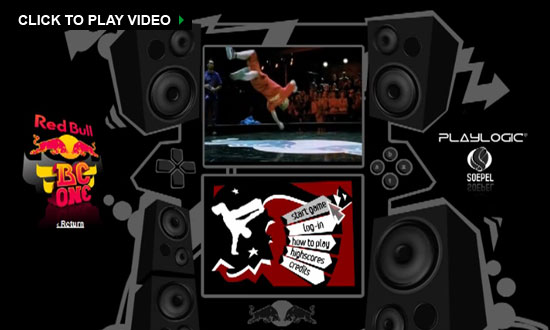 Links and files
Unfortunately, the game and any related material have been taken offline after Soepel closed down.
Features
1 track to breakdance to with a couple of moves to pull off
2 mini games that are intertwined with the main track