Gatling Gears is a top-down action game in which you control a heavily armed walker and shoot everything in your path, in order to stop the Empire's destructive campaign for resources and to save the world. Gatling Gears is released in a partnership with Electronic Arts and available on Xbox LIVE Arcade, PlayStation Network and PC.

In this twin-stick shooter, players follow Max Brawley and his niece Zoe through the world of Mistbound, first introduced in Vanguard's (then W!Games) previous title Greed Corp. They fight through vast levels with different themes, against a great number of varied enemies and enormous machines of destruction. Players can upgrade their walkers, improving weapons and armor, to create the ultimate fighting machine. The unique scoring system, in which players have separate scores but a shared multiplier and collect points from fallen enemies, provides for an interesting mix of competition and co-operation.
Responsibilities
I am one of around five designers that worked on this project, in an overall team of about forty people. Some of the tasks I've worked on are:
Overall game design and its documentation
Coordinating, supervising and executing enemy placement (creating core gameplay enemy opposition)
Campaign and walker progression model
Designing and coordinating the implementation of Achievements/Trophies
Designing, scripting and communicating in-game events
PR efforts
In-game and menu texts
Media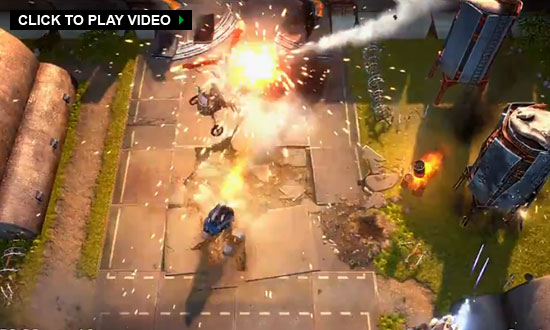 Links and files
Features
Pick-up-and-play twin-stick controls
4 weapon types: gatling gun, cannon, grenade, screen cleaner
30 areas within 6 large levels in different settings
Epic multi-stage boss fights, one at the end of every level
Explosions Michael Bay would be proud of, both in number and quality
Walker customization and upgrades
Online and local co-op, with drop-in and drop-out functionality
Unique and dynamic scoring system and Leaderboards for all separate levels
Critical acclaim
Gatling Gears did well in the 2011 Dutch Game Awards. The game won Best Visual Design and was nominated in the Best PC/Console Game category. That officially makes Gatling Gears one of the best games released in 2011 by a Dutch developer. These awards were handed out during the Control Industry Dinner on November 24 2011, as part of Game in the City in Amersfoort, The Netherlands.
Gatling Gears also got some great reviews. Here are some highlights:
"Brilliant pacing and dramatic flair. There are moments of absolute mayhem and chaos in Gatling Gears, with bullets filling the sky and explosions everywhere. But breaks in the action give gamers a chance to fully appreciate exactly what they've gotten themselves, and Max, into."

GamePro: 9.0
"I just could not stop playing it, and it's rare for me to become this addicted to a game like this. It's a simple enough concept, but the execution is top-notch."

GameFocus: 8.6 – Editor's Choice
"There are a few other dual-stick shooters on Xbox Live Arcade, but Gatling Gears is one of the best. It doesn't have much in the way of new ammunition — this is essentially a 1985 arcade game with the modern conveniences provided by Xbox Live. But it is a joy to play."

IGN: 8.5 – Editors' Choice
"Gatling Gears sits comfortably at the upper range of twin-stick shooter quality on the consoles' digital platforms of today."

Destructoid: 8.0
"Despite lacking some gameplay depth of its predecessor, Gatling Gears dishes out the kind of frenetic action any good dual-stick shooter should, and it does so with great flair."

GamesRadar: 8.0
Many more can be found on the Metacritic pages for the Xbox 360, PlayStation 3 and PC version of Gatling Gears.